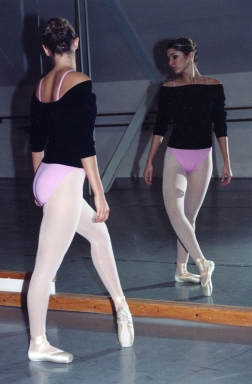 DRESS CODE:
Uniforms are required. Students must wear Capezio or Sansha ballet slippers. Girls must wear appropriate colored leotard and footed ballet pink tights. It is recommended that you purchase your uniforms at the school.  We  carry quality Capezio and Sansha products.
 
Hair: Students must arrive at class well groomed with clean uniforms and hair back. All female students in level 2 and above MUST wear their hair in a secure bun. Any dancer who does not have her hair up in a bun may be required to sit out their class. Please help your child look professional! 
 
Teddy-Bear, Tippy-Toes, Primary, Ballet 1A - Capezio ballet pink leather slippers, Capezio pink tights, pink leotard.
Ballet 1B, 2, 3  - Pink or black leotard, ballet pink tights, Capezio or Sansha ballet slippers.
Int./Adv Ballet - Solid colored leotard, ballet pink tights, Capezio or Sansha pink ballet slippers.
Saturday Company Class - Black leotard, pink tights, pink ballet slippers, no shorts or skirts.
Boys - black tights, fitted shorts or leggings,   white shirt, white or black ballet shoes.
Lyrical,  Hip Hop, Tap, Broadway - tights or leggings, t-shirt or leotard, ballet slippers or jazz shoes, tap shoes.